Leonard Country Club - Hole 2
Par 5 - 485 Yards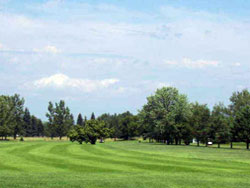 Many say this is the most difficult hole on the course. It is a risk-reward hole with a creek running down the left side & through the fairway.
If you hit a good tee shot, you can go over the creek on the second shot. However, with any wind or a short tee shot, a lay-up shot is required.
The lay-up shot is very difficult as the fairway narrows & slopes towards the water.
Finally, a narrow green with a great deal of slope is the final destination. You either love it or hate it, but it is definitely a challenge.