Leonard Country Club
The Eagle's Nest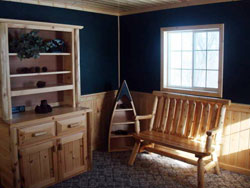 The Leonard Country Club brings a very unique golf experience to the Fargo-Moorhead area with the "Eagle's Nest". The Eagle's Nest at the Leonard Country Club offers a cabin style lodging complete with log furniture, fireplace, kitchenette, bathroom & shower, along with a full knotty pine motif.
The Eagle's Nest will be available for "Stay & Play" golf packages, guest lodging, hunters, or for those who simply want to get away for a relaxing game of cards. It is an extraordinary design that is well worth the visit!
There is a living room area complete with television and log futons for your relaxation. Also, there is full heating & air conditioning for your comfort. Next, there is a full kitchen available including a refrigerator, stove microwave, sink, and all of the dishes & utensils. Finally, the Eagle's Nest has a full bathroom & shower for your comfort & convenience.
History Of The Eagle's Nest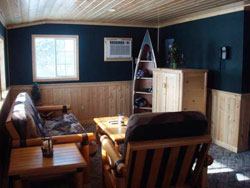 The Eagle's Nest is located on the eighth hole of the Leonard Country Club which overlooks the entire golf course with full view of the rolling Sand Hills of North Dakota. The Eagle's Nest was originally used as a grain storage building and schoolhouse in the Leonard area. The building was later moved to this location back in the 1960's and served as the Clubhouse for over 20 years until a new clubhouse was built in the late 1980's.
The building sat idle for many years until Jason Olson began construction to remodel the old house back in the early 2000's. Jason worked on the golf course, and his plan was to reside in the building. Jason completed all of the construction on the exterior of the building before his untimely passing as a young man. In 2007, we completely remodeled and finished the interior of the building, with a quaint yet modern cabin style. We are dedicating the "Eagle's Nest" in loving memory of Jason Olson.
This building has provided a lot of history and great memories for many people over the years, and our hope is that the "Eagle's Nest" will continue to provide many more fun times for generations to come. So next time you are planning a golf get away or simply need some time to relax, consider the unique experience of the "Eagle's Nest" at the Leonard Country Club!