Leonard Country Club - Hole 7
Par 4 - 319 Yards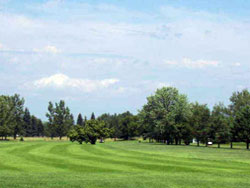 This is a fun hole that has a ravine that runs through it right in front of the green. Most people lay-up and play for a good approach shot.
A "Big-Hitter" can go for the green, but there is a sand trap that protects the front, and the ravine has long rough that is tough to hit from. Also, over the back is "Dead".
Finally, there is an out-of-bounds along the entire left side, making an accurate tee shot very important.
(Coffin Corner-These last 3 holes can make or break your round.)