Leonard Country Club - Hole 3
Par 4 - 258 Yards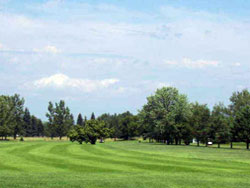 It looks like an easy birdie on paper, but this hole gets a lot of people. It gets really tight by the green with nowhere to bail out.
If you miss the green it will most likely be a penalty stroke, and even if you hit it straight it still has a very small sloped green to navigate.
Great "Scramble" hole!!!